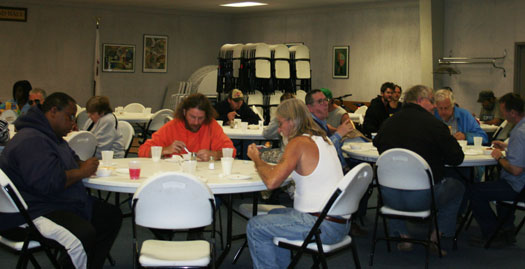 St. Joseph Evening Meal, a ministry of St. Pius X Catholic Church, served Monday - Friday
Rock Island Township Services
Our basic responsibilities are:
Administering the General Assistance Program

Eligible clients may receive a maximum of $347 per month towards rent, utilities, personal needs and food. Vouchers are issued to clients and checks are mailed to the rental property owners. All rental properties must be registered with the City of Rock Island.
Typically, our clients are single, unemployed or applying for Social Security disability and have no other means of financial self-support.
The application process can take up to 30 days
If approved and able to work, clients must seek employment, using resources at the Township (computer center, newspaper, job listings, etc.) to find a job.
Assessing all real estate in the Township – go to the Assessor's link.
In addition, the Township provides these additional services and programs:
Work Readiness – Provides Township residents free bus tickets for those looking for employment, until they get a job and receive their first paycheck. We also assist with getting clothing or tools required for the job.
Ethel Schurlock Giving Center – We accept donations of gently used clothing and shoes that are given to people who need them. Books, VHS or DVD movies and other household items may be available from time to time. There is no charge for any item.
Evening Meal Site – St. Joseph's Parish coordinates an evening meal in Lund Hall, Monday through Friday at 5:30 p.m. They are closed for some holidays.
Food Pantry – Sacred Heart's Food Pantry is open Monday through Friday from 9:00 a.m. to 11:00 a.m. Residents must show identification and are limited to one visit per month.
Grants to Organizations – The Township offers small grants to local non-profit groups serving the needs of seniors, youth and veterans. Applications are accepted year round and are subject to the Town Board's approval.
Blanket Give Away – In the Fall of every year, Rock Island Township and several other Rock Island County townships distribute hundreds of surplus Department of Defense blankets to those in need. The supply is limited and they go quickly.
Emergency Food and Shelter Funding – In February or March, the Township usually (but not always) receives a grant allowing us to help families by paying one month's rent. The funding is intended to prevent homelessness and applicants who are normally ineligible for other types of assistance may qualify for this program. The maximum grant is $450.
Senior Cares Program – A monthly $35.00 voucher to Rock Island's SaveMore or Hy-Vee groceries is offered to income eligible seniors (65 or older) to help offset other living expenses (utilities, phone, etc.). A single person could qualify if they receive $1063.00 per month or less; couples can earn up to $1437.00.
Flu Shots – The Rock Island County Health Department offers flu shots in the fall of every year.
AARP Income Tax Preparation Site – From February through April, AARP certified volunteers offer free income tax preparation to low and moderate income residents, especially those over 60. Call 211 on a landline or 563/355-9900 on a cell phone.
Leaf Bag Distribution Site – We offer the City of Rock Island's free leaf bags whenever the City approves that program and delivers the paper bags to us.
Voter Registration – We have several Deputy Registrars who would be happy to register you to vote, update your address, or change your voting status.
Free copies and faxes – We will make limited number of copies for Township residents or send a fax on their behalf. These can be related to employment, taxes, driver's licenses', etc.
Free Notary – We will notarize your documents should that be needed.
Warming / Cooling Center – Whenever we have temperature extremes, Lund Hall at the Township is open for you to drop in and get warm or cool, depending on the season.